<!-ShowPage(index.html)->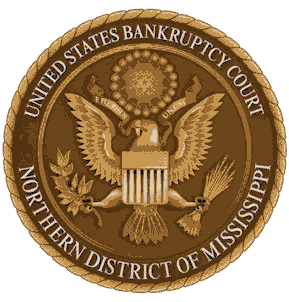 Welcome to the U.S. Bankruptcy Court for the Northern District of Mississippi
<!-ShowPage(OperationNotice.htm)->
---
Welcome to NextGen Version 1.5.2
NOTICE
Significant modifications have occurred to this application as a result of the recent upgrade to NextGen Version 1.5.2 of CM/ECF.
Please call the Clerk's office for assistance if you encounter problems in electronically filing any document.
THIS SYSTEM IS SHUTDOWN EACH MONDAY - FRIDAY MORNING FROM 7:00 A.M. - 8:00 A.M. FOR SYSTEM MAINTENANCE.
TO AVOID ANY INTERRUPTION IN YOUR SESSION, PLEASE DO NOT LOG IN DURING THESE TIMES.

---
17September2019
Court Information