<!-ShowPage(index.html)->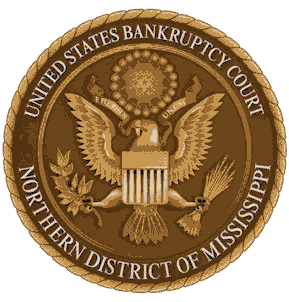 Welcome to the U.S. Bankruptcy Court for the Northern District of Mississippi
<!-ShowPage(OperationNotice.htm)->
---
Welcome to NextGen Version 1.5.3
NOTICE
This is a restricted government website $ All activities of CM/ECF subscribers or users of this system for any purpose, a$ all access attempts, may be recorded and monitored by persons authorized by the federal judiciary for improper use, protection of system security, performance $ maintenance and for appropriate management by the judiciary of its systems. By subscribing to CM/ECF, users expressly consent to system monitoring and to official access to data reviewed and created by them on the system. If evidence$ unlawful activity is discovered, including unauthorized access attempts, it may$ reported to law enforcement officials.
Significant modifications have occurred to this application as a result of the recent upgrade to NextGen Version 1.5.3 of CM/ECF.
Please call the Clerk's office for assistance if you encounter problems in electronically filing any document.
THIS SYSTEM IS SHUTDOWN EACH MONDAY - FRIDAY MORNING FROM 7:00 A.M. - 8:00 A.M. FOR SYSTEM MAINTENANCE.
TO AVOID ANY INTERRUPTION IN YOUR SESSION, PLEASE DO NOT LOG IN DURING THESE TIMES.

---
17September2019
Court Information